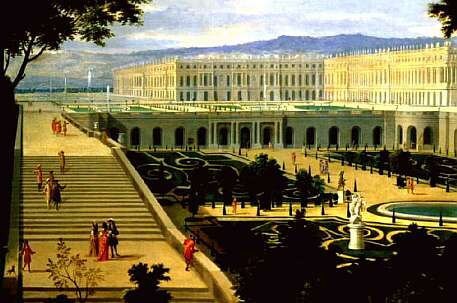 Orangeries, or orange groves, had been popular in the French Royal Family since the fifteenth century reign of Charles VIII. The orangerie at Versailles, cultivated at the order of Louis XIV, can still be visited. In Marie-Antoinette's day, the oranges were used to make orange blossom water, which served the Queen in her beauty products and especially as a tonic for her nerves. It is still in use today. According to Style Craze:
Do you want to know the secret to beautiful skin? Orange blossom water!  You may think that this beneficial water comes from the pretty flowers  of the orange tree, but that's not the case. Orange blossom water is a  by-product of the process of distillation that is used to obtain the  essential oil from the seeds, peel, leaves, bark, and pulp. 
[...]
 Orange blossom oil is also known as neroli essential oil. Orange blossom  water or Orange flower water is obtained by exploiting certain  fractions of the oil's hydrophilic qualities. Like rosewater and other  flower waters, it is widely used in cosmetics, aromatherapy as well as  in cooking. 
 Here are the Orange Blossom water benefits and uses:
1. Tones Up The Skin:
Orange blossom water is known for its wonderful effects on the skin (1). It is a great toner for oily skin.  This flower water is so gentle that it is even used as an ingredient in  products made for babies. Replace your toner with this all-natural one,  but make sure that you purchase orange blossom water made from natural  and pure distillations.
2. Soothes And Relaxes Nerves:
One of the reasons orange blossom water is so widely used in aromatherapy  is the soothing effect it has on the nerves. Adding it to your  bathwater will ease tension and even cure headaches. It also helps in relieving stress and anxiety.
3. Makes Skin Soft And Smooth:
Another  benefit of adding orange blossom water to your bath water is its  ability to make your skin soft and glowing. It will help moisturize your skin  and makes it feel like satin all day long. All you need to do is add ¼  cup of this amazing flower water, 3 tablespoons of honey and 2 to 3 cups  of warm milk to your bathwater to get beautiful, soft skin. (Read more.)
I use orange blossom water in both the cleanser and the creams.